MSA
The department of English of Bangladesh University of Business and Technology (BUBT) organized a Talk on "World Englishes from the Perspective of Language as Situated Practice: Examining English Textbooks in Bangladesh" on Wednesday, October 26, 2022 at 3:00 pm in the International Conference Hall, BUBT. The Chief Guest of the program was Professor Dr. Md. Fayyaz Khan, Vice Chancellor, BUBT. He acknowledged the divergent varieties of English exemplifying the variations in spelling between American and British English.
The welcome speech was given by Professor Syed Anwarul Huq, Dean, Faculty of Arts & Humanities, BUBT. He upheld the significance of English as a global language mentioning how most of the people in every region of the world using the language due to the colonization.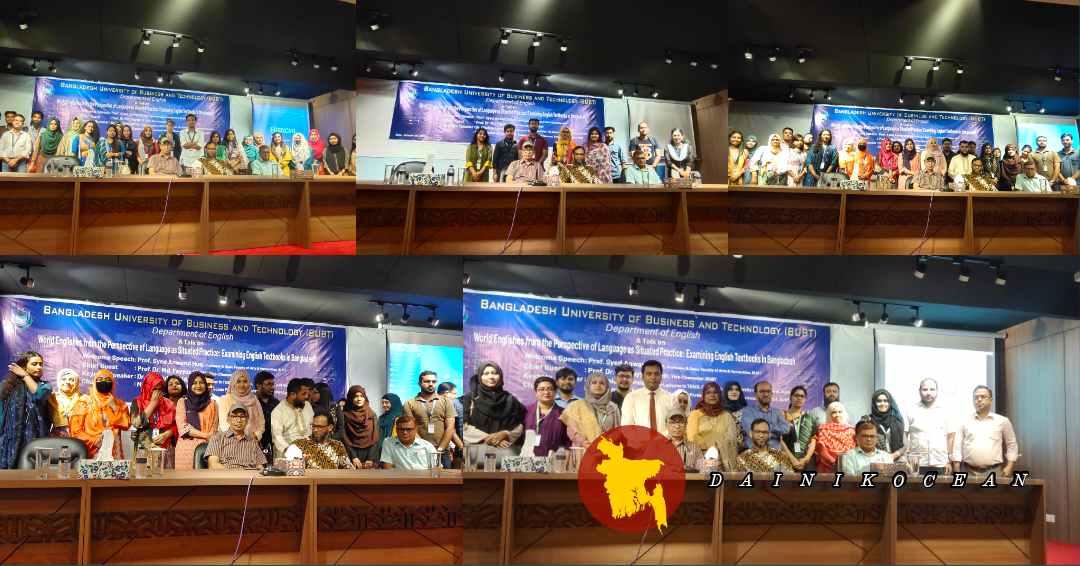 The keynote speech was delivered by Dr Obaidul Hamid, Senior Lecturer in TESOL Education, School of Education, the University of Queensland, Australia. He conferred about the textbooks, world Englishes, and language as situated practices. The speaker mentioned textbooks as pedagogical resources and means of interaction between teachers and students. He considered Englishes as changing phases of the language. By the last keyword he referred to the contexts where the language is truly used. In his argument, the keynote speaker also promoted linguistic pluralism, linguistic creativity and the recognition of all varieties of English. He disclosed the methodological questions on examining local English textbooks, books used across secular and religious streams, and particularly on textbook analysis.
The session was chaired by Mohammad Shawkat Ali, Associate Professor and Chairman, department of English, BUBT. He took the privilege to extend a vote of thanks to the guests and the attendees of the programme. The Talk was hosted by Md. Sabbir Ahmad, Assistant Professor of the department. The faculties and the students of BUBT participated in the Talk.